November 20, 2010 – 1:24 am
there are epic things you do with a headful of intentions. and then there are escapades where the big idea emerges only in retrospect. and so, this piece of food thought kind of sums up last weekend after the fact. if we'd read this before all the insanity, we would have claimed it as our motive:
(T)he cheapness of calories (both in terms of price and time) has led us to dramatically boost consumption. Food stops being something we make and create … and becomes something we simply ingest. Eating just gets easier. And then we get fatter.
(there's all kinds of fascinating backup for this assertion. read the whole thing.)
But maybe we're not just consuming more calories because they're available at such a low cost. Maybe we're also consuming more calories because each calorie gives us less pleasure. …

Because we didn't make the milkshake ourselves, because that dinner only required a few minutes of work, we need to consume more calories to get the same baseline of satisfaction. The solution to this problem, of course, is simple: We need to take time to make dinner.
***
the idea, then, was to build an outdoor oven made of cob — sand, straw and backyard clay — and use it as sort of a social experiment. we would produce a massive stream of food over four days. we'd invite as many weirdly different people as possible. a cured pumpkin (rouge vif d'etampes) would be the seasonal centerpiece and live-brewed coffee would provide the glue, the aesthetic shorthand: "this is elemental. this is good. and it is made right here."
yeah, huh, this sounds insane on the front end. but in the wake of it all, events appear infinitely more insane. an open-ended, uncontrolled, virgin experience of unknown proportions. what could go wrong?
this blog knew nothing about cob, despite building a primitive oven in chad years ago. but the barista-poet's wife, a potter and sculptor and oven builder, supplied the verbal sense. kiko denzer gave us a blueprint. and michael pollan lit the fuse in his recent moving times piece about an oven-centered feast.
the upshot is that there's a lot of foot stomping involved. carolina clay is orange and dense, and mixing in all that sand with your feet late in the fall is not unlike skiing barefoot on a frigid slope of cheese graters. then there's all that pounding with fists, clobbering the rough mix into a perfect dome, the walls nearly a foot thick. at one point, the office boss asked if my knuckles were fight-worn.
the menu was loose, the schedule completely unknown. colleagues, neighbors, slight acquaintances, social mainstays were invited to drop in any time and bring something to cook, possibly even for their consumption later in the week. such ovens were once the centers of social gravity, and they require adjustment to others' cooking and the oven's pace.
so thursday night started slow. crusty pain rond, muffins, cookies and toasted nuts were the openers — post-dinner fare. a couple rather good baristas were in the house. the home espresso bar soon belonged to them. by friday night, the experience was swelling beyond belief. venison and garden root vegetables baked to perfection. sirloin rice pilaf, ribeye steaks, korean pork, sticky rice and local apple crisp stunned. men cooperatively manned the oven, and our hand-packed walls stored waves of heat for hours. neighbors stood agog and talked of topics we'd never broached before.
in true 'le fooding' spirit, boxes of cold krispy kremes arrived late into the night. they warmed inside the dome, and someone soon yelled, "hot doughnuts now." people we barely knew stayed late, quaffing off the syphon pots of sundried ethiopia yirgacheffe worka and growlers of rugbrod julebryg.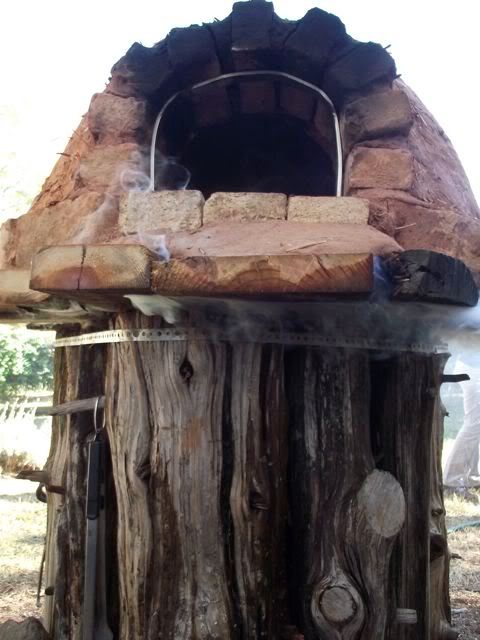 smoke wafts from where it shouldn't, beneath the 1700s handmade brick and old growth salvage timber. panic. PANIC.
the devastation began saturday morning, after stoking the oven through the night and firing it up again for breakfast pumpkin and cranberry bread with orange glaze. the cedar base caught fire. it was a testament, really, to the shocking amounts of heat stored and radiated by the cob walls. after more than 24 hours of charging, they'd begun to push infernos of heat downward through layers of fire brick and sand and cob insulation — far further than we ever dreamed it would travel. the base lit up, and the new lifestyle seemed to have ended soon after it had begun. depression took hold. incredibly, though, a bit of ingenuity from solis jake prompted a chancy decision to press on. lunchtime was on track and dozens of pizzas in line.
waves of children arrived. savory pumpkin-herb chunks, local grass-fed beef, garden pesto, heirloom tomatoes, garlic bechamel, sea salt and heirloom peppers swirled in inspired mixes. the base smoldered, and still we baked. calebowski's stunning mac and cheese lured the 80-year-old neighbor for a plate. open-faced sweet roasted squash and garden salad, sweet nutmeg pumpkin ice cream invented by the ladye and more crusty loaves piled on. at this point, frankly, consciousness began to fade.
and still the fire strayed where it didn't belong. hosing and ripping ensued. it became obvious the oven wouldn't last far beyond this frenzied stretch: it was fatally flawed. but dinner was on as soon as lunch was done, and newspapering people showed up with cast iron pots of crowder peas and squash and excellent spanish wine. apple sausages, more venison chops and baguettes went in. we stuffed the vif d'etampes with bacon, butter and cream and gruyere and baked it until tender. brie spreads, heirloom peppers stuffed with herbs and local goat cheese and pumpkin pots de creme sort of melted everywhere while the best photographer i know expounded on his master's thesis. a family lean in the budget ate their fill. a psychiatrist floated in from a massage, in a state of zen. toasted rosemary walnuts emerged, but no one had room.
by this point, we smelled like fresh-killed pelts of some kind and there were gallons of growlers formerly full of fall ales clanking around. the yirg worka and el salvador matalapa tablom al amate cappuccinos gushed periodically. the brick arch that covered the oven's doorway had cracked, but held together — barely. it was a metaphor.
in the end, this blog perceived compression: incredible heights of coalescing people and disastrous lows of failure tightly packed in a short time frame. it witnessed accommodation: people adjusting to people they'd never seen, adjusting to the cooking pace of the oven, altering their imported foods to the current spread, moving toward sources of warmth and away from showers of sparks. it was not altogether comfortable. and we saw social engineering: when we threw in the towel on a smoldering project, jake found a way to salvage it. the entire structure was an amalgam of insight from carpenters and potters and tile experts and designers. when neighbor jason put the local beef in someone else's mac-and-cheese, it made an already gluteous dish supreme and deadly. when this blog became consumed with fire and ash, coffee nerds stepped in to produce streams of superior brew.
every meal, for days, the emotional progression looked something like this: expectation –> frenzy –> dread –> helplessness –> stunned delight –> relish –> reflection –> exhaustion –> interpretation.
in all, roughly 30 people waded into each meal. when the food ran low, someone else arrived bearing pots of something more. and as this blog slept off the throbbing sunday morning, the door rattled. a couple friends had come by for the final course. fortunately, an overnight yogurt was on the warm hearth, and we added pistachios and sauteed apples. it went down easy, but tinged with wood smoke. we all had some form of severe bedhead.
and there's no question: it all tasted better because the participation was so thorough. it satisfied, in ways we barely understand. a week later, people keep coming up to us, shaking their heads wordlessly at the memory. and we're pretty sure we barely remember most of it.